Bay of Banderas lies on the Pacific coast of Mexico and the Western Sierra Madre Mountains. It is one of the largest and most beautiful tropical bays in the world. Just to mention that every winter, humpback whales arrive at this bay to give birth making an attraction that vacationers never forget.
It's authentic Mexican flavor blends with the luxurious comforts of the region's beach hotels, resorts and jaw-dropping villas, leaving a lasting impression for visitors. If you want to be in the heart of that glamour, then Puerta Vallarta, Riviera Nayarit and Punta Mita have it all.
In this story, our main destination was the amazing Four Seasons hotel in Punta Mita, but we also decided to stay the last night in the nearby Puerto Vallarta to make a full coverage of this trip.
It was just a few hours flight from Houston to Puerto Vallarta and upon landed to the airport, we had prearranged an affordable car rental. We thought it would be cool to drive around, but honestly a taxi or Uber may even be a better choice.
Punta de Mita by Four Seasons
Covering just over 1500 acres, Punta de Mita is a spear−shaped peninsula surrounded on three sides by crystalline waters and nine miles of pristine coastline. Punta Mita is the chosen spot for what promises to become the most privileged residential resort community in Latin America.
The peninsula that is home to the Four Seasons Punta Mita, St. Regis Punta Mita, and 16 sub−communities. Punta Mita is located on the north end of Banderas Bay in the Mexican state of Nayarit, about 10 miles north of Puerto Vallarta, Jalisco.
Our experience of Punta de Mita starts and ends with Four Seasons hotel as it embraces and celebrate the rich culture of Mexico. Their "mi casa, su casa" attitude allow you to feel the true spirit of Mexican hospitality and as their web page states: " The charming spirit of the Mexican people results in deeply personal connections. Here, you arrive here as a guest, leave as a friend, and return as family."

To complete a beach vacation, it is mandatory to enjoy the sunset at least one time. In Punta de Mita, sunsets may be different on a daily basis. In the dry season, the sun looks like a brilliant illuminated ball, but clouds always make it more colorful and desirable. Anyway, you can watch it from the pool with a cocktail in hand or head to a restaurant that's out on the sand.
Right above Pacific "The Rock" (the middle image) is the most famoust spot for intimate celebrations and uninterrupted sunsets. Please enjoy some of sunset photos from our Punta de Mita album.

Native Huichol Indians believed Punta Mita to be a retreat for spiritual renewal. The name itself originates from the Aztec word "mictlan", which translates to "gateway to paradise". Situated high in the Sierra Madre Mountains just west of Punta Mita, the Huichol Indians are a centuries-old tribe and the last remaining links to pre-Columbian times. Local culture is a prized asset at Punta Mita, and even though roughly 20,000 Huichol people remain in the region today, their artwork, history, and philosophy are celebrated throughout the community.
Developed by DINE, one of Mexico's premier real estate and resort developers, Punta Mita was designed as a complete getaway and has evolved into a perennial pick to relax and unwind for the world's most affluent individuals.
At the end, here are just a few more images from this world−class private peninsula where dreams of idyllic tropical getaways turn to reality.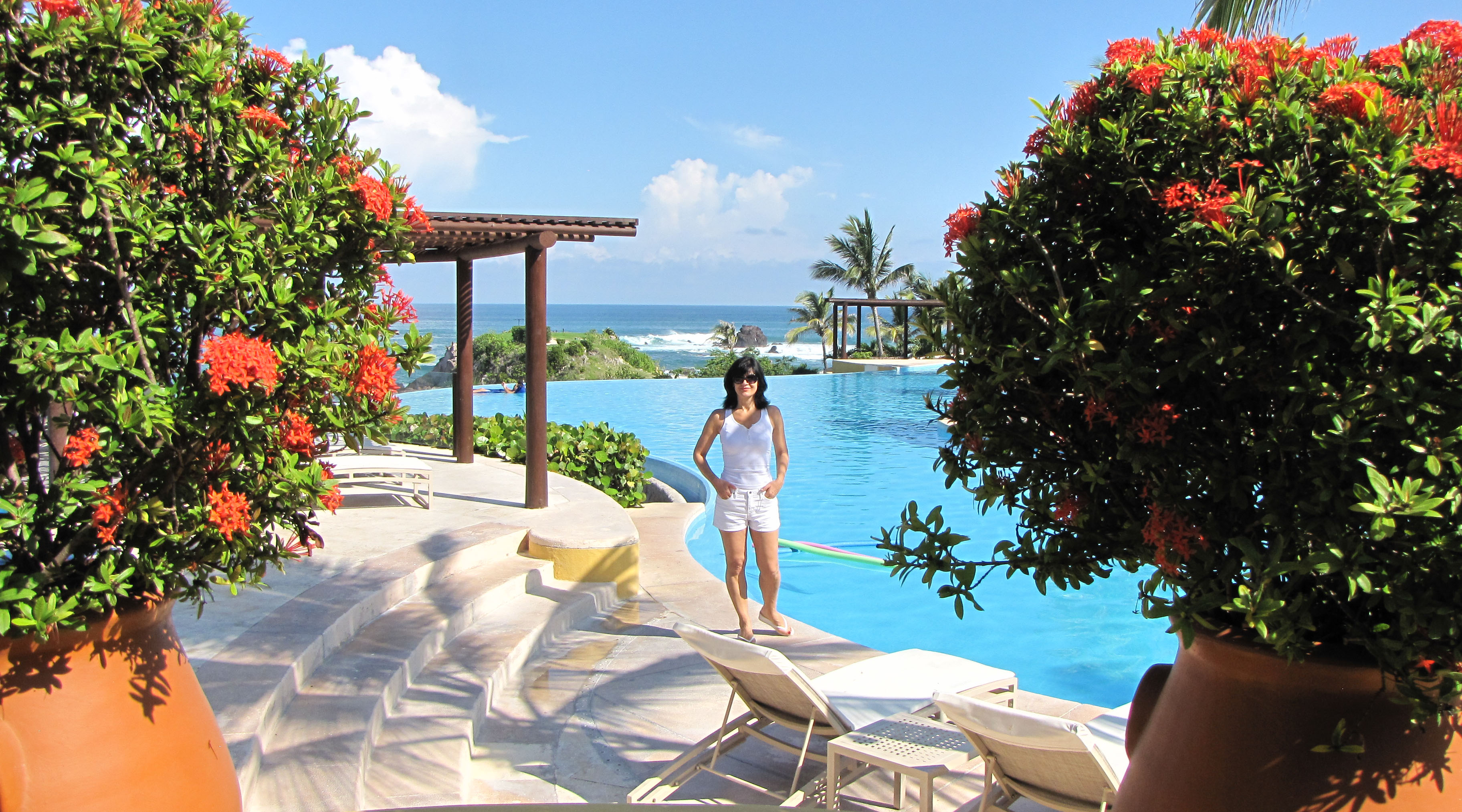 Memories from Puerto Vallarta
Puerto Vallarta is a resort town on Mexico's Pacific coast, in Jalisco state. It is known for its beaches, water sports and nightlife scene. The Old Vallarta cobblestone center is home to the ornate Nuestra Señora de Guadalupe church, boutique shops and a range of restaurants and bars. El Malecón is a beachside promenade with contemporary sculptures, as well as bars, lounges and nightclubs.

Six influences in the 1960s and 1970s launched Puerto Vallarta into becoming a major resort destination:
♦ The Mexican federal government resolved century-old property disputes of land that had communal status
♦ American director John Huston filmed his 1964 movie "The Night of the Iguana" in Mismaloya, a small town just south of Puerto Vallarta. During the filming, the US media gave extensive coverage to Elizabeth Taylor's extramarital affair with Richard Burton
♦ The Mexican government invested significantly in transportation improvements making Puerto Vallarta an easy travel destination
♦ In 1968 the Puerto Vallarta municipality was elevated to City status. The elevation in status reflected interest by Mexican federal and state governments in developing the Puerto Vallarta as an international resort destination
♦ In August 1970, U.S. President Richard Nixon met with Mexican then-President Gustavo Díaz Ordaz in Puerto Vallarta for treaty negotiations
♦ Resort hotel development in Puerto Vallarta boomed in the 1970s. Prior to 1973 hotels in Puerto Vallarta tended to be modest, mid-priced establishments. Only two large sized luxury hotels existed (the Real and the Posada Vallarta)
Puerto Vallarta's Our Lady of Guadalupe Parish (Parroquia de Nuestra Señora de Guadalupe) is the city icon. It dominates Vallarta's downtown skyline and is one of the favorite symbols and landmarks of the city, not only in photos but also shirts, logos and postcards.
It is one of the most important city monuments and the spiritual center of the Catholics in this town.

That was all from Punta de Mita and Puerto Vallarta. Thank you for watching!