We decided to make a short side trip to this remarkable and one of the most multicultural cities in the world. It is a modern touristic city with a lot of things to do and see. Definitely, our South Africa visit wouldn't be complete without experiencing Cape Town.
It is one of South Africa's most historically important cities known as Mama Africa. It was here where the first European colonists set foot in South Africa, which also marked the beginning of the South African slave trade.
In 1967 the South African doctor Christiaan Barnard performed the world's first heart transplantation in the world in Cape Town. The original theater where the awe-inspiring act took place is today a museum, aptly named Heart of Cape Town.
Cape Town was the first city outside Europe to get Blue Flag status due to its high water quality, fantastic facilities, safety and cleanliness.
The Parliament of South Africa sits in Cape Town.
Cape Town has a warm Mediterranean climate with mild, moderately wet winters and dry, warm summers
This is how we spent two unforgetable days in this "two oceans" city. Hope you'll enjoy it.
Our hotel was in the Long street, which is the heart of city center, the rustic and cozy place with the beautiful view onto the Table Mountain and old historic surrounding buildings. The Long street is the famous "night life" area that could be a little bit rough, but it didn't bother us at all.
The hop-on hop-off bus tour service is our world wide favorite sightseeing experience. With 2 days hop-on, hop-off tickets, we started exploring Cape town. The first stop was one of the world's most famous landmarks:
1. Table Mountain

♣ Table mountain is a flat-topped mountain overlooking Cape Town and is a huge tourist attraction
♣ The highest point is 1,086 meters (3,563 ft) above sea level
♣ It is often covered in cloud which is know as the "Table cloth"
♣ The mountain is now officially recognized as one of the new seven world wonders.
♣ It is South Africa's most photographed landmark.
♣ Over 800,000 people visit it each year.
♣ Having withstood 6 million years of erosion, it hosts the richest floral kingdom on earth, with more than 1 470 floral species.
2. Visit Cape Town's City Center
Cape Town city centre is a cosmopolitan buzz of colorful restaurants, sidewalk cafes, curio shops, galleries, museums, and centuries old Cathedrals alongside breath-taking views.
Most Cape Town city attractions are within walking distance providing a variety of experiences.
If you would like to discover and experience the bohemian world of African curios, then you can find all you need in Long Street. Apart from a glamour night live there are antique shops, book stores and bistros.....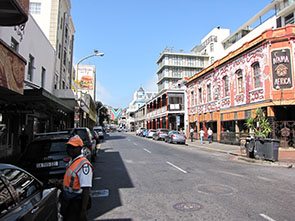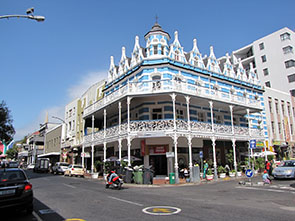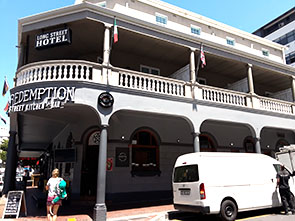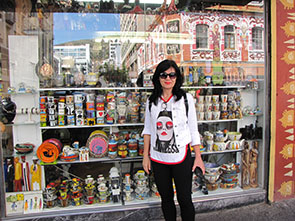 3. Cape Town Free Walking Tours
City Sightseeing offers you an opportunity to explore the city on foot with two different tours.
♣ All tours are free and operate on a tips-only basis (a guide will advise the tips expectation)
♣ All tours start at the City Sightseeing ticket office on 81 Long Street (stop 5) - just look out for the bright red umbrellas!
♣ All tours are guided in English.
You'll hear interesting stories about the city's rich history and heritage - from slavery to the apartheid era and the present day.
Tour highlights include Greenmarket Square (where slaves were once sold), City Hall (where Nelson Mandela made his first speech as a free man) and the Company's Garden (home to the Cape's oldest living citizen).
Bo-Kaap Walk: the expression of the rainbow nation

Nobody seems to know when and why householders of the Bo-Kaap began painting their homes in kaleidoscopic colours. Perhaps, it's close related to the South Africa's reinvention of itself as the Rainbow Nation.
After the end of Apartheid, Bo-Kaapers were able to buy their own homes from the city council, so, perhaps painting them in bright colours became an expression of long-suppressed individualism and a celebration of new-found freedom. There are different theories about that.
Because of its position along one of the world's busiest trade routes it is one of the busiest ports in South Africa, handling the largest amount of fresh fruit and second only to Durban as a container port.
Due to a significant number of tourists coming here, the port of Cape Town is also a famous stop for cruise ships.
Here are some photos taken during the harbor cruise tour!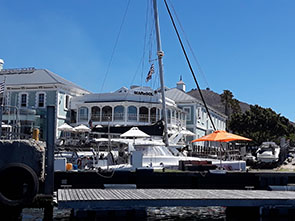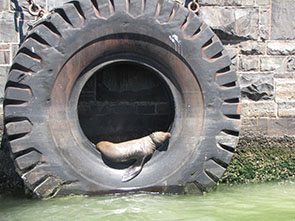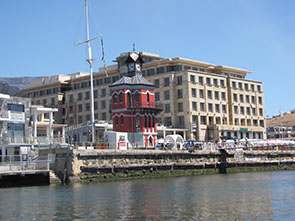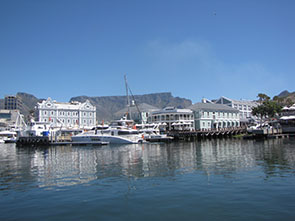 ...and a few from the Cape Town's Canal Cruise
The African Penguin, also known as the Jackass Penguin and Black-footed Penguin is only found on the south-western coast of Africa. In the early 1980's, just two breeding pairs of African Penguins showed up on the mainland near Cape Town and never left. Today, it is their home with 1000's of penguins frolicking around.
Boulders Beach is a sheltered beach made up of inlets between granite boulders, from which the name originated. It is located in the Cape Peninsula, near Simon's Town towards Cape Point, near Cape Town. It is a popular tourist stop because of a colony of African penguins which settled there in 1982. Boulders Beach forms part of the Table Mountain National Park.
6. Cape Town Camps Bay beach
This is a beautiful sandy beach and easy to get to on the Hop on Hop off bus. There are many pleasant places to eat along the sea front and a view of the sunset that is breathtaking!
If you are good strong swimmers, enjoy the cool Atlantic Waves, or just walk through shallow water if you are not in the mood to swim!

The Twelve Apostles Mountain Range forms the back of Table Mountain, where you'll find one of the most scenic stretches of coast in the world. It runs roughly from Kloof Nek (the saddle between Table Mountain and Lion's Head) to Hout Bay. Victoria Road runs along the entire length of the series of mountains, overlooking the Atlantic Ocean on the one side, and the magnificent crags, ridges, ravines, and gorges of the Twelve Apostles on the other.
Our journey came to an end, so this is a good bye from the Cape Town airport to the beautiful South Africa before boarding BA fligh to London and then United to Houston!!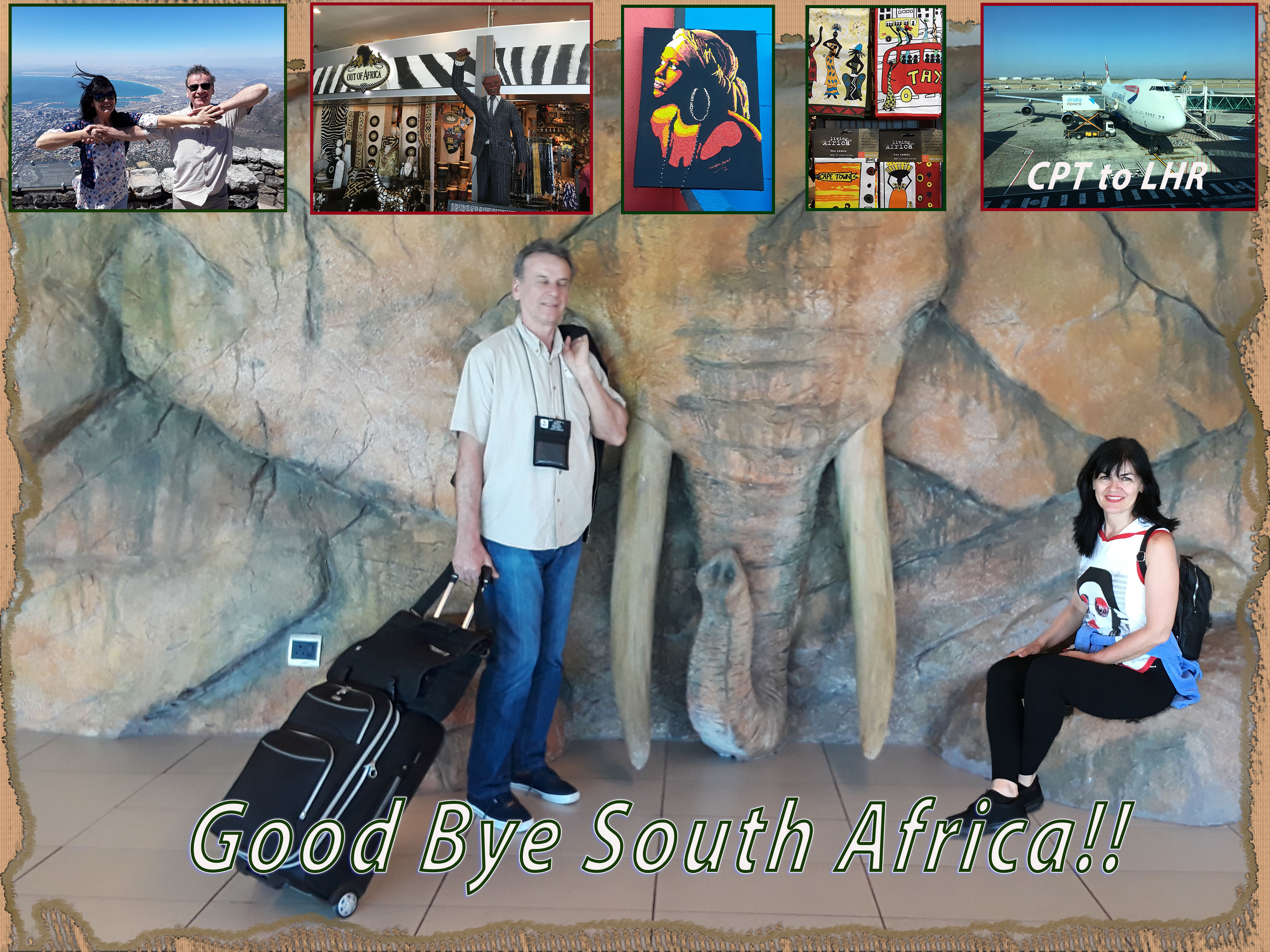 That was all from South Africa. See you in our next destination - Brazil!!!