Chile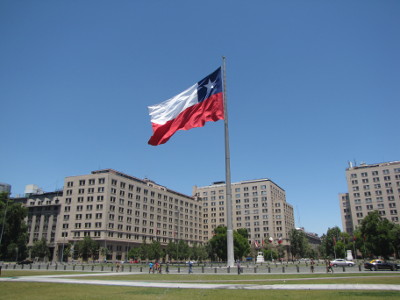 Chile through history
Chile is a long, narrow country stretching along South America's western edge, with more than 6,000km of Pacific Ocean coastline. It is very interesting country with the long history of wars and dictatorships.
Chile was originally under the control of the Incas in the north and the nomadic Araucanos in the south. In 1541, a Spaniard, Pedro de Valdivia, founded Santiago. Chile won its independence from Spain in 1818 under Bernardo O'Higgins and an Argentinian, José de San Martin. O'Higgins, dictator until 1823, laid the foundations of the modern state with a two-party system and a centralized government
The dictator from 1830 to 1837, Diego Portales, fought a war with Peru from 1836−1839 that expanded Chilean territory. Chile fought the War of the Pacific with Peru and Bolivia from 1879 to 1883, winning Antofagasta, Bolivia's only outlet to the sea, and extensive areas from Peru. Pedro Montt led a revolt that overthrew José Balmaceda in 1891 and established a parliamentary dictatorship lasting until a new constitution was adopted in 1925.
Industrialization began before World War I and led to the formation of Marxist groups. Juan Antonio Ríos, president during World War II, was originally pro-Nazi but in 1944 led his country into the war on the side of the Allies.
In 1970, Salvador Allende became the first president in a non-Communist country freely elected on a Marxist program. Allende quickly established relations with Cuba and the People's Republic of China, introduced Marxist economic and social reforms, and nationalized many private companies, including U.S.-owned ones. In Sept. 1973, Allende was overthrown and killed in a military coup ending a 46-year era of constitutional government in Chile.
Augusto Pinochet, who eventually assumed the office of president. Committed to eliminating Marxism the junta suspended parliament, banned political activity, and severely curbed civil liberties. Pinochet's brutal dictatorship led to the imprisonment, torture, disappearances, execution, and expulsion of thousands of Chileans. A government report in 2004 indicated that almost 28,000 people had been tortured during his rule, and at least 3,200 murders and disappearances had taken place.
The economy, in tatters under Allende's Socialist revolution, gradually improved after Chile's return to privatization under Pinochet. In 1989, Pinochet lost a plebiscite on whether he should remain in power. He stepped down in Jan. 1990 in favor of Patricio Aylwin. In Dec. 1993, Eduardo Frei Ruiz-Tagle, the candidate of a center-left coalition and son of a previous president, was elected president.
Today, Chile is governed under the constitution of 1981 as amended. It is a multiparty democracy with a directly elected president who serves a four-year term and the president may not be elected ot consecutive terms.
Santiago, its capital, sits in a valley surrounded by the Andes and Chilean Coast Range mountains. The city's palm-lined Plaza de Armas contains the neoclassical cathedral and the National History Museum. The massive Parque Metropolitano offers swimming pools, a botanical garden and zoo.