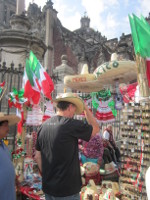 If your travel destiny ever takes you to the southern part of the USA, Mexico is awaiting on you - just a few hours away.
A country known for its diversity in all aspects: culture, landscape, history, music, dance and many others
No wonder it was one of the biggest attractions and destinations for many famous writers, artists, musicians, actors, business people and just humble people from all over the world.
It simply makes you feel at home being welcomed by natives whose big smiles take away your worries and always leave you with nice and happy memories. I'm not famous but I'm happy that Mexico was my first visit outside of the USA and it has remained my favorite get away place.