According to United Nations, as of 2018, Mumbai was the second most populous city in India after Delhi and the fourth most populous city in the world with a population of 20.4 million. As per Indian government population census of 2011, Mumbai was the most populous city in India with an estimated city proper population of 12.5 million living under Municipal Corporation of Greater Mumbai.
It isn't an easy task to describe Mumbai or what it hides inside the city. Everyone's own experience is the key for an explanation or writing a blog; therefore, what you'll see on this page is our opinion based on our experience.
To us, the Hop on − Hop off bus tours provides the most trustful city guide in any city. As there wasn't one in Mumbai, for some reason our adventures' start point was always at the Gateway of India. Although, we didn't see any official tourist office, there were several individuals on the square offering different tours for a bargainable deals.
So, that morning we had a plan and decided to do all on our own, but as soon as we got out of Uber, we became a "prey" of tours guides on the square.
At the first moment we had some doubts but after an open conversation, we trusted our instinct and decided to first take a city tour and after that a boat to the Elephanta caves. If nothing else, we appreciated the way how people make money for their living, somewhat differently from, what we are seeing in our lives. They were simply, business professionals providing us a service, so why wouldn't we support them? In addition to the bargain package price, there was something else we haven't experienced in any other place: they didn't charge anything upfront; the payment was due at the end of the tour. For us it was at the entrance of the boat.
Definitely, when you come here, just relax and believe in locals; they are hard working people with good heart. It's a guarantee for an enjoyable and unforgettable experience.
Mumbai as the entertainment and financial capital of India, is the city that never sleeps. It's commonly called the city of dreams as it is a dream city of millions of people. Bollywood is one of the biggest movie producers in the world and it's located here in Mumbai. It is a place filled with dreamers and people who work hard day and night to achieve their dreams. I think that the fair description of Mumbai would be a city for all, from struggling actors, laborers, Bollywood stars to gangsters.
Here are a few of randomly captured street images during our walk from the Gateway of India to the Victoria Terminus.
The Mumbai Fish Market
.. was the first stop on the city tour. It is an interesting place to visit especially with so much chaos, different fishes and fisherwomen, and not to mention a barging experience between fish buyer and sellers. However, that all is happening very early in the morning when fishermen bring their products to the fish market. As not being so enthusiastic to wake up at 4 in the morning, we missed that part, but instead here are a few images of fisherman boats and the fisherman village bay.
Hand cloth washing
..in Mumbai is one of famous attractions. It's a real business and not something made up for a touristic attraction. For example, the famous Dhobi Ghat laundry has about 700 washing platforms where about 200 washer-men families have been washing clothes for decades. It is the world's largest outdoor laundry.
The images down bellow are from another nearby hand-washing laundry. The shortest explanation for this job is that the laundries have several washing platforms made of stones and each washer-man or the entire family use one of them to wash cloth brough from different parts of Mumbai including some hotels. We have been told that most of washer-men are those who are coming outside of Mumbai looking for job opportunities and better life. They are the least paid workers and of course all profit goes to their bosses.
Either way, although water looked dirty, the cloth came out clean and smelling nicely. Additionally, as people of Mumbai are very proud of this business, it is presented as one of the biggest touristic attractions.
Marine Drive boulevard
...was built as part of the British government's Back Bay Reclamation Scheme during the second phase of Mumbai's urban development in the early 20th century. This scheme involved dredging the sea and dumping stone into it, to create land and expand the city westward.

In 2018, the long stretch of Art Deco buildings lining it received UNESCO World Heritage status, as part of the Victorian Gothic and Art Deco Ensembles of Mumbai. Notably, Mumbai has the second largest collection of Art Deco buildings in the world, after Miami.
With no doubts, this 3.6 km long arch-shaped boulevard is an indicative of the glamor and glitter of the city. This curve of the coastline, with palm trees makes a spectacular view at night. People come here to walk in the evening and enjoy the brilliant sunset. The part of this coastline is the Chowpatty Beach.
This iconic curved coastal boulevard, is often called the Queen's Necklace because of its glowing string of street lights.

Jain Temple, Mumbai
Jainism is a clean and non−violent religion that provides moral inspiration of life values. It has given the entire human race mainly 5 messages: Ahimsa − cause no pain or harm to anyone; Truth − keep aloof from falsehood; Non−Theft − Never accept anything unless it has been given away to you; Non−Hoarding − Do not hoard more than our need and Celibacy − Preserve your piety. These teaching are acceptable by and beneficial to humanity as a whole.
Hanging Gardens
..in Mumbai, also known as Pherozeshah Mehta Gardens, are terraced gardens perched at the top of Malabar Hill, on its western side, just opposite the Kamala Nehru Park. They provide sunset views over the Arabian Sea and feature numerous hedges carved into the shapes of animals.
It is built on a water reservoir; hence the name "Hanging Gardens". This water reservoir supplies water to South Mumbai. It used to be an open reservoir on which the British built a garden in 1881.
Mani Bhavan
Mani Bhavan is a museum and historical building dedicated to Gandhi, situated at Laburnum Road in the Gamdevi precinct of Mumbai. Mani Bhavan was the focal point of Gandhi's political activities in Mumbai between 1917 and 1934
The mansion belonged to Revashankar Jagjeevan Jhaveri, Gandhi's friend and host in Mumbai during this period. It was from Mani Bhavan that Gandhi initiated the Non−Cooperation, Satyagraha, Swadeshi, Khadi and Khilafat Movements.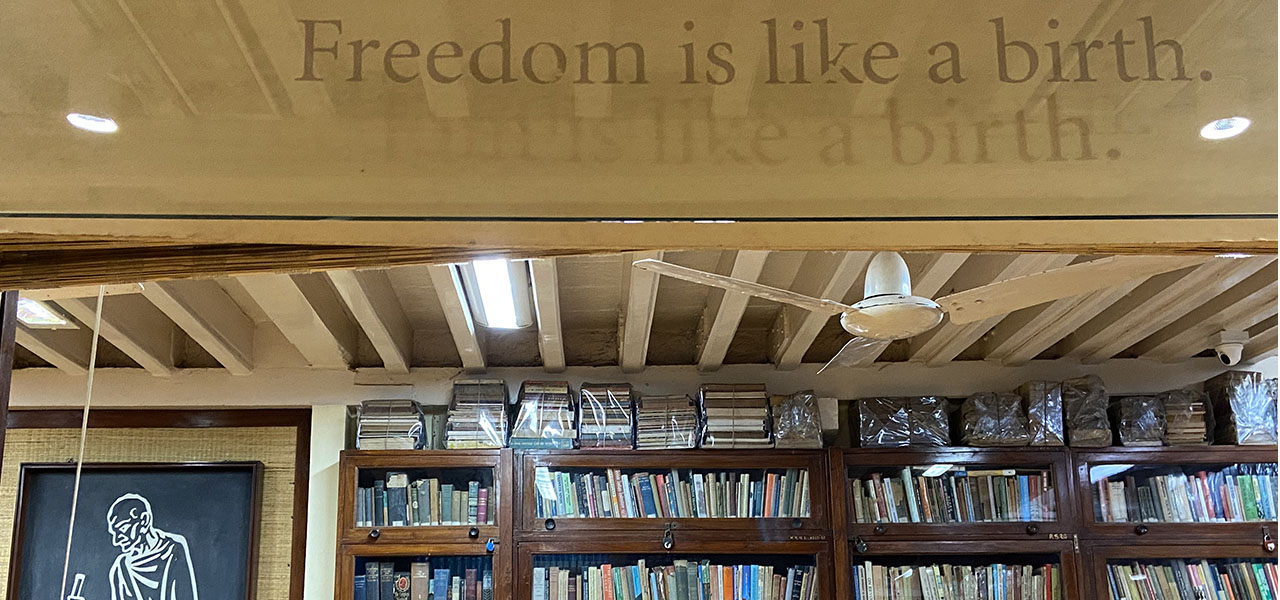 After the visit to the Gandhi's house, we went back to the Gateway of India and concluded our Mumbai city tour.
Four Seasons Hotel Mumbai - rooftop view
The Mumbai story wouldn't be complete without showing the best of the best. Please enjoy a few images from the 34th−floor rooftop bar at Four Seasons hotel Mumbai. From here you can experience an open−air view of the cityscape and the sea beyond.
That was really all from our India trip. There are many other places to be visited in Mumbai, but we have left them for a next time!!!!