General information:
Puerto Rico is a Caribbean island and unincorporated U.S. territory with a landscape of mountains, waterfalls and the El Yunque tropical rainforest. In San Juan, the capital and largest city, the Isla Verde area is known for its hotel strip, beach bars and casinos. Its Old San Juan neighborhood features colorful Spanish colonial buildings and El Morro and La Fortaleza, massive, centuries-old fortresses.
Puerto Rico is a self-governing commonwealth in association with the United States. The chief of state is the President of the United States of America. The head of government is an elected Governor. There are two legislative chambers: the House of Representatives, 51 seats, and the Senate, 27 seats.
You don't need a passport to get in, the US dollar is used as currency, and there are hundreds of weekly flights from all over the country to San Juan. As far as travelers are concerned, visiting Puerto Rico is as easy as traveling to one of the 50 states.
The Old San Juan was founded in 1521 by Spanish settlers. The first fortification, La Fortaleza (The Fortress), began construction in 1533 and currently serves as the governor's mansion. The Castillo San Felipe del Morro, or El Morro for short, was the second fort built on the islet of what is now Old San Juan and Puerta de Tierra. El Morro's construction commenced in 1539 and finished in 1790; during those 250 years, El Morro went from a promontory mounted with a cannon to a six level fortress designed to unnerve attackers approaching from the sea.
In 1898, due to the Spanish-American War, the Island changed hands from Spain to the United States. El Morro was designated as part of Fort Brooke and actively used as a military installation during the First and Second World Wars. In 1961, the US Army retired El Morro, passing it on to the National Park Service to establish a museum. And in 1983, El Morro and the walled city of Old San Juan were declared UNESCO World Heritage Sites.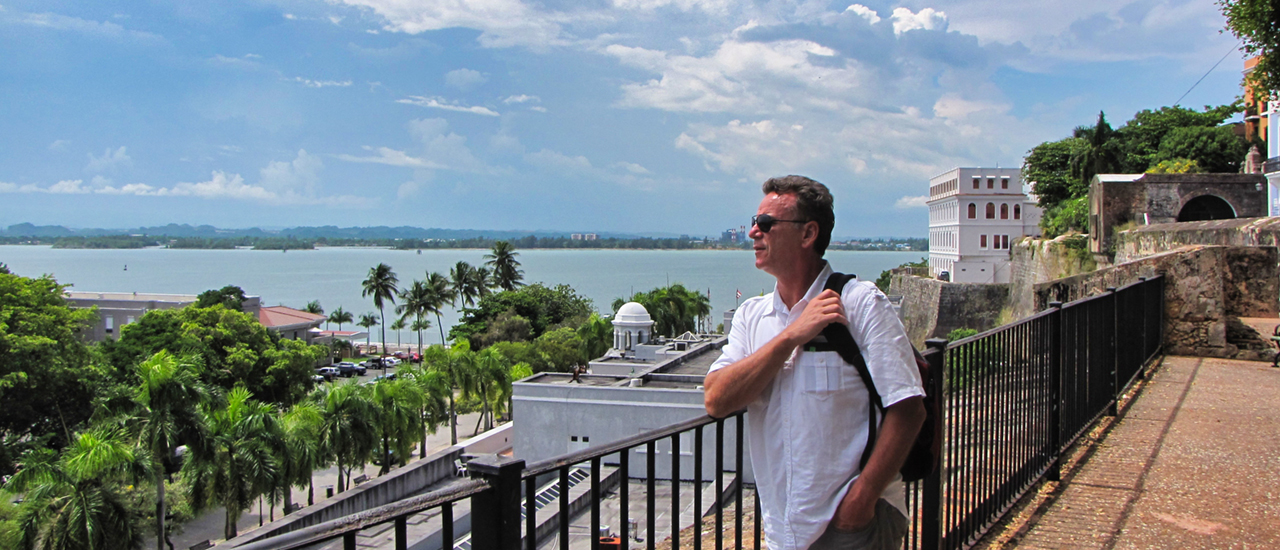 Interesting facts:
The piña colada was born in Puerto Rico
Salsa dance and Puerto Rico cannot be separated. Salsa is Puerto Rico's greatest contribution to Latin music.
The streets are paved with blue cobblestones, giving a charming vibe.
The drinking age is 18.
There are five Miss Universe winners from Puerto Rico
The amazing beaches are everywhere −There are 270 miles of beaches.
Mosquito Bay in Vieques is one of the few places in the world where you can see the "bioluminescent bay" phenomenon − where the water lights up neon blue − at its most intense
The temperature is 70−80 degrees all year round, so it's always the perfect time to visit and explore Puerto Rico.
Puerto Rico also has its own incredible cuisine. If you're on a budget, you can get a pretty great meal for as low $3 while high restaurants will cost you somewhere around $30 and up.
Puerto Rican cuisine has its roots in the cooking traditions and practices of Europe (mostly Spain), Africa and the native Taínos. Since the latter part of the 19th century, Puerto Rican cuisine can be found in several other countries.
We shared all we had learned about this gorgeous place in a quite short time, but honestly, our next visit to San Juan and Puerto Rico, will be much longer. You should do the same.