India was always triggering an interest among different nations around the world. It is the seventh largest country by area, the second most populous country, and the most populous democracy in the world. Many of us might recall learning in school that when Christopher Columbus reached the New World, he believed that he had reached India. We all know India's location on the world map, but it's challenging to choose where and how to start your visit to this amazing country.
Many people are asking me "why Mumbai?". Perhaps, Mumbai is just a big fast-paced cosmopolitan city, but we've found several facts about Mumbai confirming that it's actually, an image of a "little India".
Besides, the spectacular Four Seasons hotel chain has one of thier properties located in Mumbai and United Airline operates a daily non-stop service to Mumbai from Newark. Therefore, Mumbai here we are!
I've read an article that Mumbai's trains alone carry six million people per day. Tourism in Mumbai is an industry that attracts almost 6 million tourists per year. Also,there are several thousands aspiring actors coming in to Mumbai each day. We can all count it, but to me that is a lot of people on move.
When the city was in the hands of the Portuguese, they saw it was a natural water bay. They called it "Bom Bhaia", which is the Portuguese term for "good bay". Later, Bombay was given to the British as dowry when a Portuguese princess married an English prince. They renamed the city Bombay.
The city's official name change, to Mumbai from Bombay happened when regional political party Shiv Sena came into power in 1995. The Shiv Sena saw Bombay as a legacy of British colonialism and wanted the city's name to reflect its Maratha heritage, hence renaming it to pay tribute to the goddess Mumbadevi the city's patron deity and Aai(mother).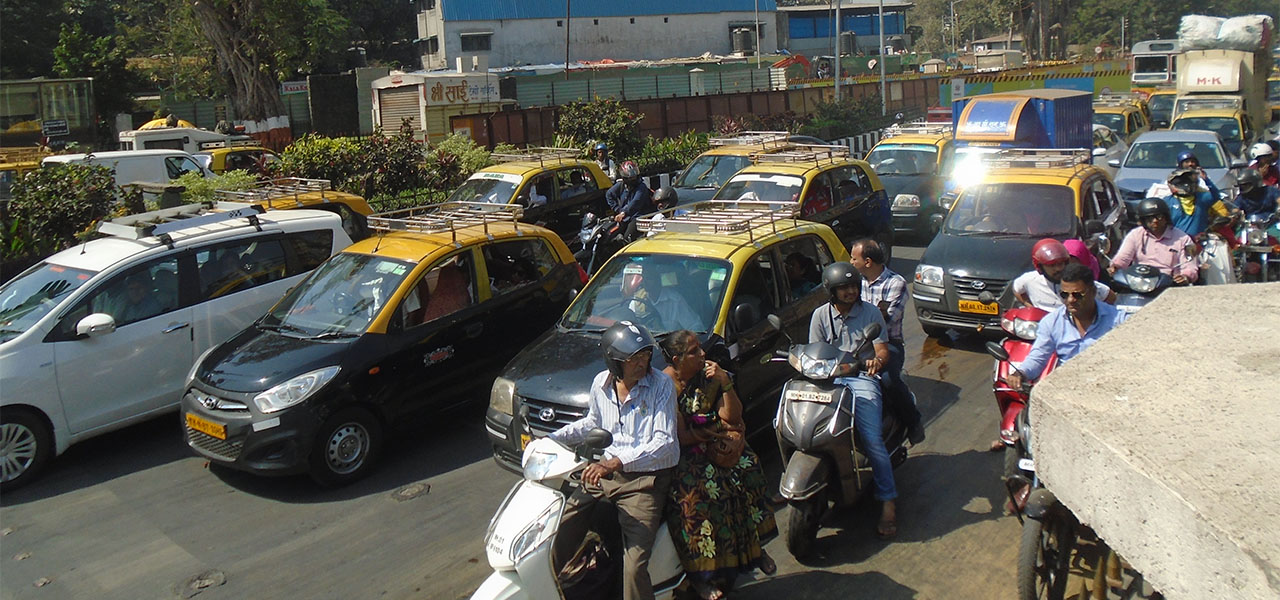 To me, the city name was irrelevant. The main concern on our first day, was how to handle streets and traffic. Should we cross a street or don't get on streets at all? Drivers are honking horns all the time to avoid giving yield to other cars or pedestrians.
Driving here seems to be dangerous but it's also a lot of fun where the concept of a "lane" is nonexistent. Two lane streets can generally, fit 4 cars tided side by side and additionally, there are few lines with motorcyclists on both edge sides of that street.
They all keep pushing their vehicles towards each other, hopping the other one will move a little bit on a side, making a space for another car.
Amazingly, pedestrians, drivers, motorcyclists and all others, don't really pay an attention to that noise, and very calmly keep moving on with a street flow towards their final destination. In Italy for example, drivers are very mad and angry to others, but here, no signs of stress nor an anger.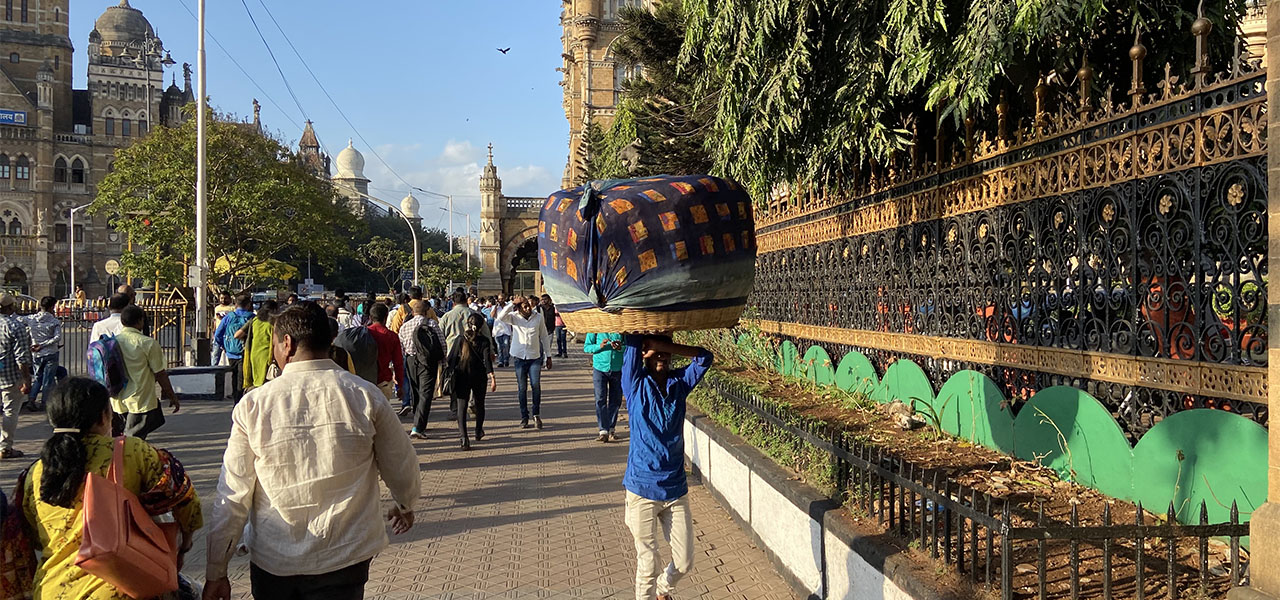 It was a time to start exploring the most memorable landmarks and take some photos. With a Mumbai map in hands our adventures always begun from the Four Seasons hotel.
Thanks to Uber, the commuting was really simple and inexpansive, although there were a few difficulties.
First, a driver may be close to your place, but still it may take a lot of time to get to you due to the unpredictable traffic. Second, it was difficult to determine what side of a street you're on as they drive on left side and whatever may be your pick up point, it may not be for an Uber driver.
Anyway, we managed to see the following prime touristic attractions.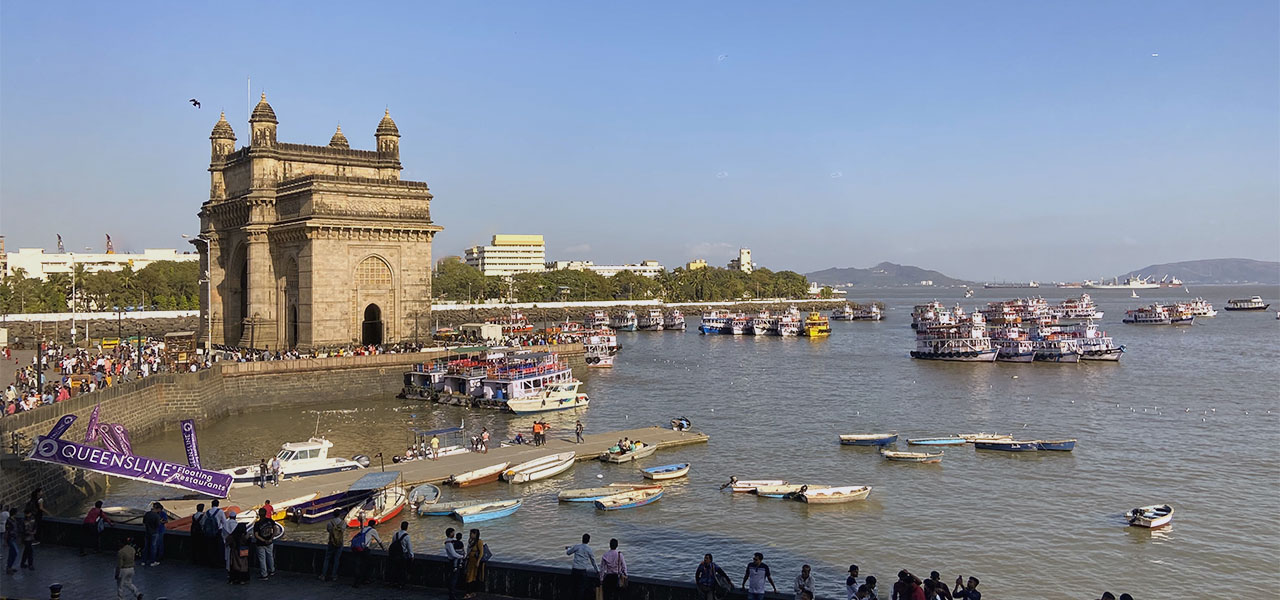 Built in 1911 to commemorate the visit of King George V and Queen−Empress Mary, the first British monarch to visit India. This magnificent stone archway was originally made in papier-máché. The final design of the monument was sanctioned only in 1914 and construction was completed in 1924.
After its construction the gateway was used as a symbolic ceremonial entrance to British India for important colonial personnel.
It has been called a symbol of "conquest and colonisation" commemorating British colonial legacy.
The gateway is also the monument from where the last British troops left India in 1948, following Indian independence.
It is located on the waterfront at an angle, opposite the Taj Mahal Palace and Tower Hotel and overlooks the Arabian Sea.
The Taj Mahal Palace and Tower Hotel, is a heritage, five-star, luxury hotel built in the Saracenic Revival style in the Colaba region of Mumbai, Maharashtra, India, situated next to the Gateway of India. Historically it was known as the "Taj Mahal Hotel" or simply "the Taj". It was one of the main sites targeted in the 2008 Mumbai attacks.
This hotel with its 560 rooms and 44 suites is considered the flagship property of the group; it employs some 1,600 staff. The hotel is made up of two different buildings: the Taj Mahal Palace and the Tower, which are historically and architecturally distinct from each other.
The hotel has a long and distinguished history, having received many notable guests, from presidents to captains of industry and stars of show business.
Some of the above images captured with local people or perhaps, visitors from different parts of India, are making our Mumbai memories even warmer. Indians simply love to take a few photos or selfies with strangers, and a very first impression would be that we went to visit our relatives in India. We felt a sort of celebrities but honestly, there weren't too many tourists walking on the streets of Mumbai or around Gateway of India.
It was really nice!
From Gateway India, you can take a boat to this island, just 10 kilometers (6.2 mi) into the Arabian Sea off the coast of Mumbai once known as Gharapuri or the place of caves. Within these caves exist magnificent statues carved from rock faces, sculpted in the 5th century AD during the Maurya dynasty.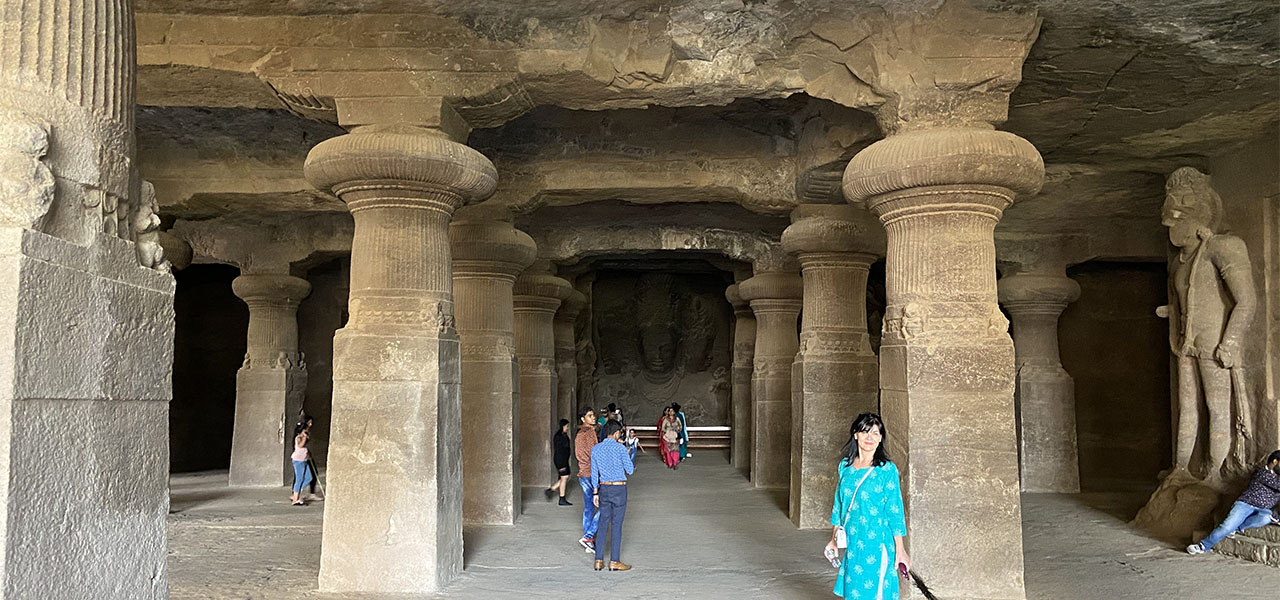 The island was rediscovered by the Portuguese in the 16th century AD and renamed after the basalt elephant that was spotted on the island. The most striking of the rock faces is the magnificent "Maheshmurti" showing three faces of Lord Shiva as the Creator, Preserver and Destroyer.
The last boat from Gateway of India to Elephanta leaves at 2:30pm.
The Portuguese established a base on the island, and its soldiers damaged the sculpture and caves. The main cave (Cave 1, or the Great Cave) was a Hindu place of worship until the Portuguese arrived, whereupon the island ceased to be an active place of worship. The earliest attempts to prevent further damage to the Caves were started by British India officials in 1909.
The monuments were restored in the 1970s. In 1987, the restored Elephanta Caves were designated a UNESCO World Heritage Site.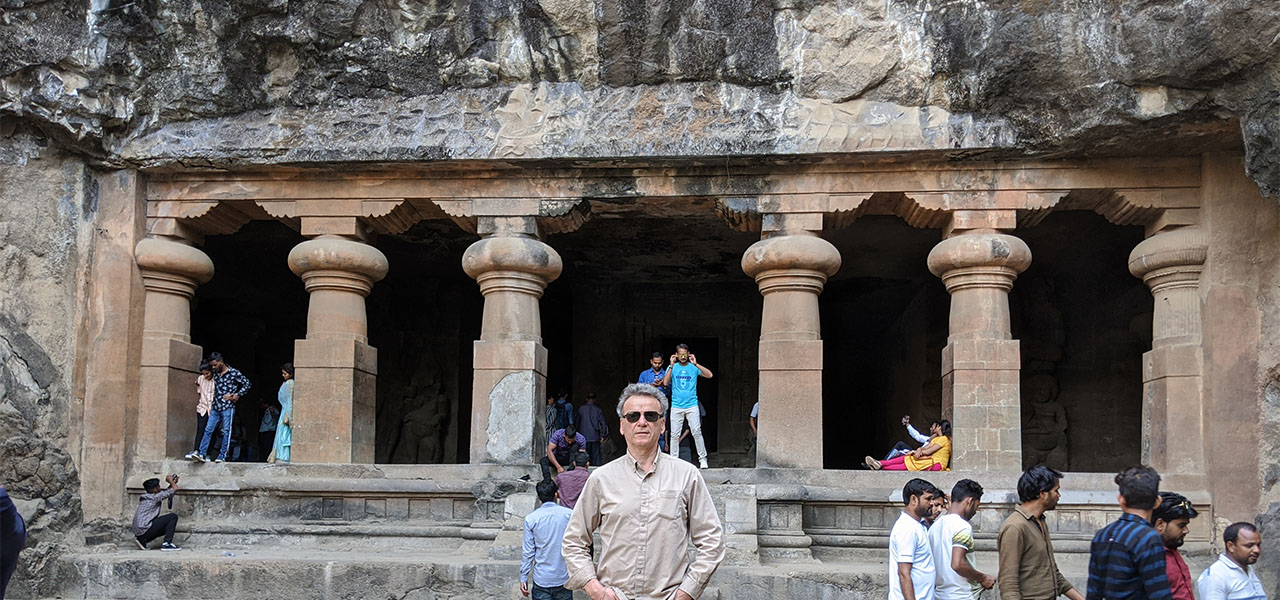 3. Victoria Terminus
(Chattrapati Shivaji Maharaj Terminus)
The Victoria Terminus, now referred to as the Chattrapati Shivaji Terminus, was built to resemble late medieval architecture and helped Bombay (the former name of Mumbai) to be become known as the "Gothic" city as well as becoming the major mercantile port in India during the 1880's.
Built in 1887, the year marking 50 years of Queen Victoria's rule, CSMT is probably Mumbai's most magnificent Raj−era monument. India's first steam engine took off from this station and today 2,5 milion commuters pass through here every day.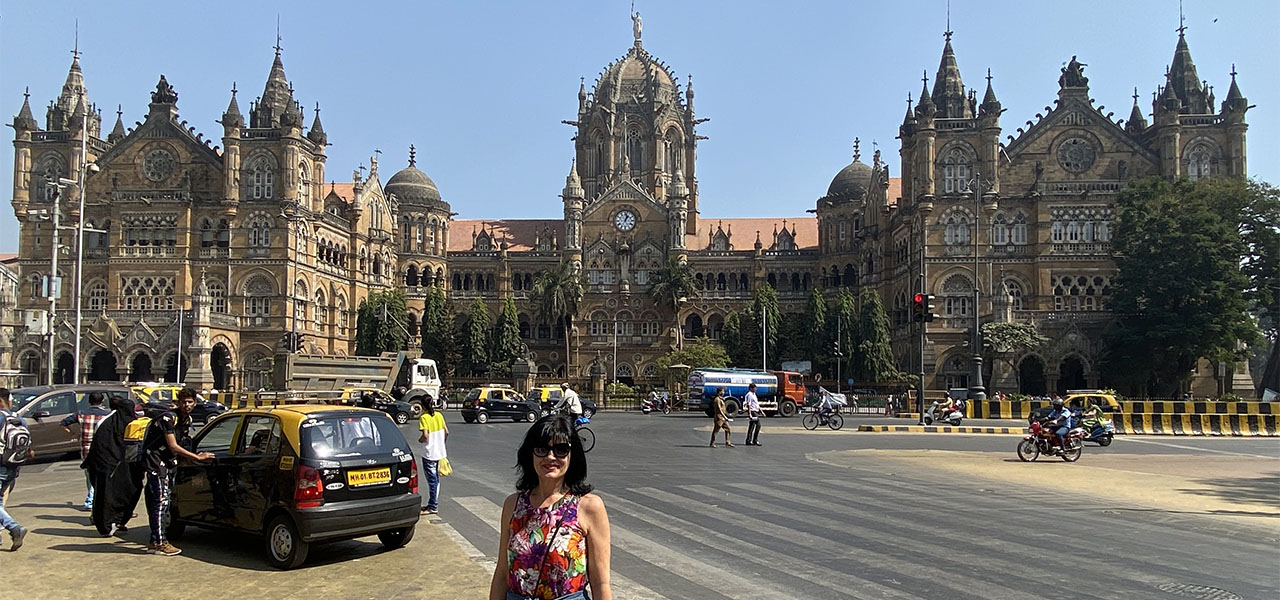 People jostle with each other for just enough space to stand lest they are involuntarily carried forward by other commuters. "VT" as it is still commonly referred to, is one of the finest Gothic structures in Mumbai.
Its splendid arches, statues, domes, buttresses, gargoyles, stained glass and vaulted ceilings make it an architectural gem. The entrance gates to Chhatrapati Shivaji Terminus carry two columns, which are crowned with a lion (representing Great Britain) and with a tiger (representing India).
The main structure is made of sandstone and limestone, and the interiors of the station are lined with premium quality Italian marble.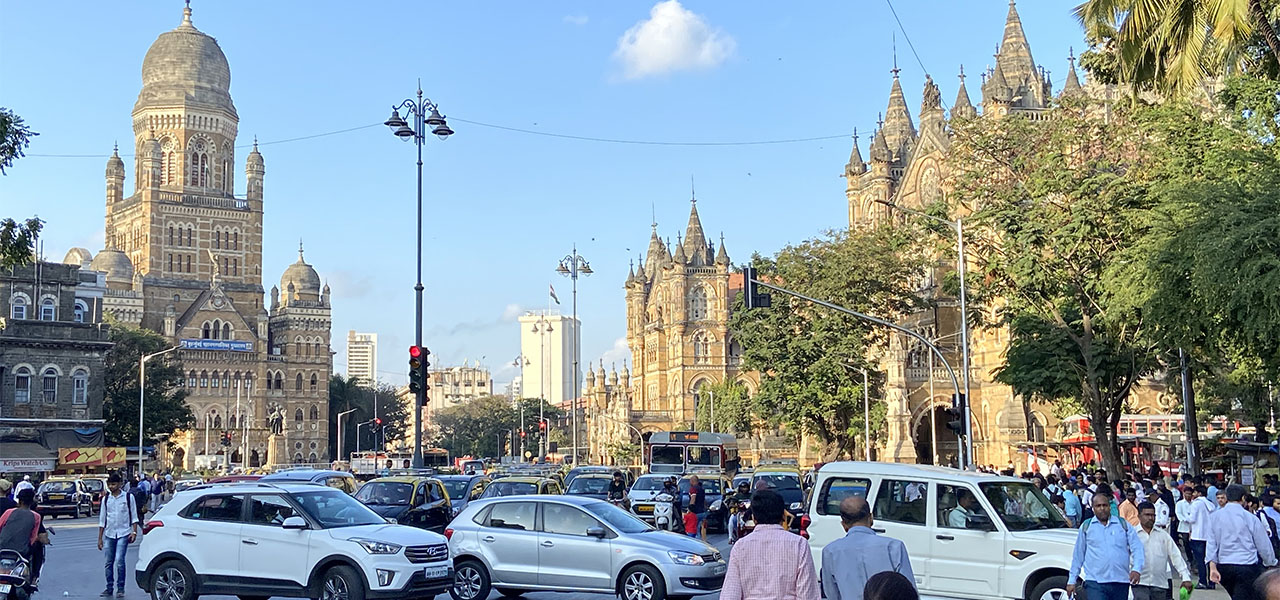 That was all for the first part of our India trip. The second part will take you further into the city - Mumbai city tour!.